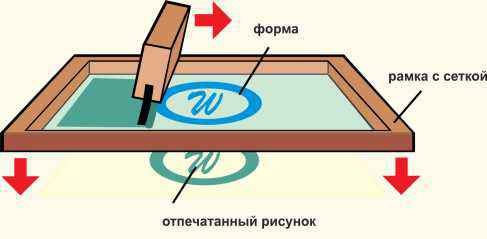 Screen printing (silkscreen) — is a method of reproducing both texts, inscriptions and images (monochrome or color) using a screen printing plate, through which the ink penetrates the printed material
Silkscreen
Silkscreen printing is a type of screen printing in which special monofilament polyester, polyamide (nylon) or metal meshes with a frequency of 4-400 threads/cm and a thickness of about 40-500 microns are used as a printing plate.
Typically, gap elements are formed directly on the grid by a photochemical method. Both a dry film photo layer (capillary film) and a liquid photographic emulsion dried on a grid after application, as well as a combination of these two methods can be used to produce the printing plate. In the normal state, the photo layer is washed off with water.
After exposure to UV radiation (wavelength 360-420 nm), the photo layer polymerizes and ceases to be washed off with water, except for the areas that have not been irradiated (covered by the image of the positive). Plots with washed off photo layers become printed elements. In the majority of cases, exposure is carried out by contact.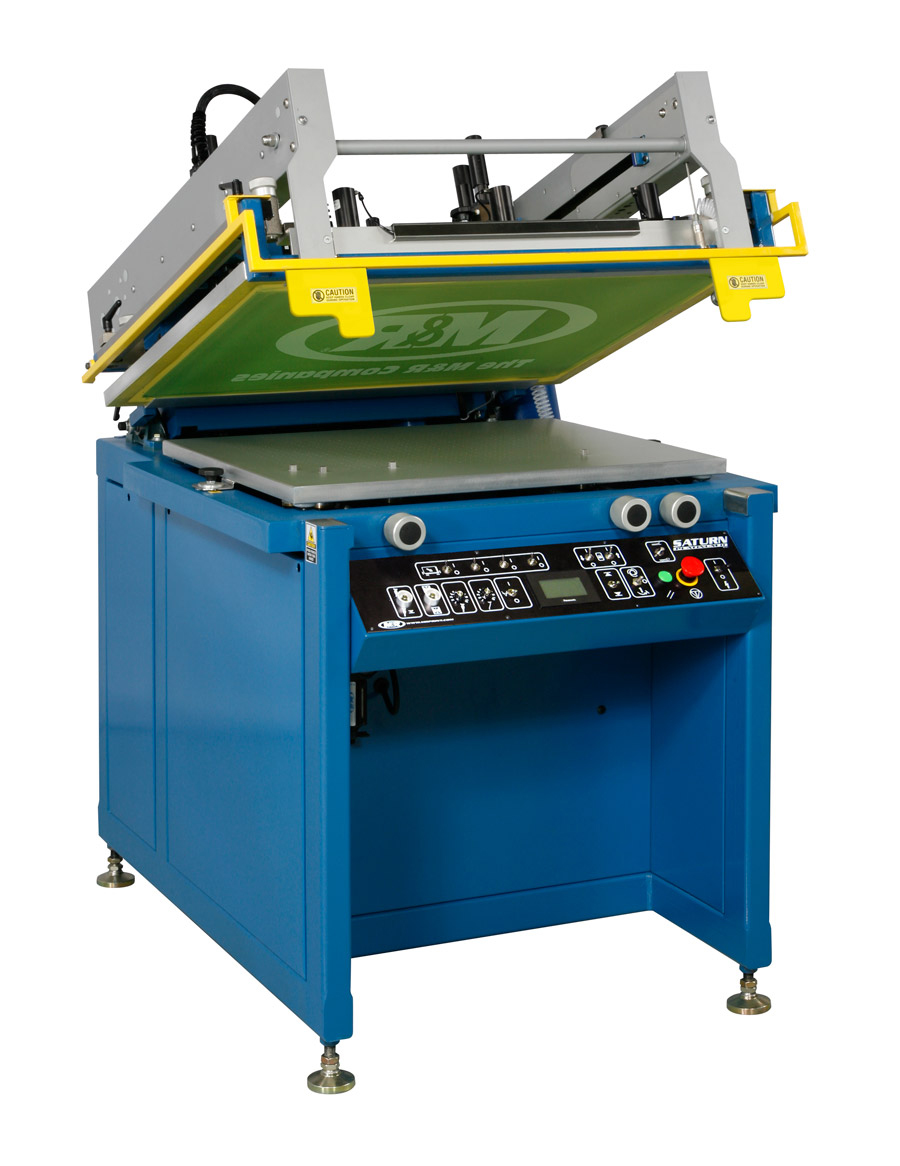 The printing itself is produced with special squeegees with a polyurethane cloth, leading it along the top (squeegee) side of the grid (stencil). Thus, the paint strictly dosed passes through the mesh in those places where there is no photographic emulsion.
As a rule, printing plates (grids) after printing go for regeneration (washing the photopolymer layer off) and then are reapplied in print.
Printing with appropriate inks can be carried out on almost all materials - paper, plastic, PVC, glass, ceramics, metals, fabrics, leather, rubber, etc. Paints may vary by type of binder (water-based, solvent-based, plastisols, paints for glass and decals based on glass filler (frit), metallic pigment and binder (medium)), curing method (ultraviolet curing (water and traditional UV inks), temperature fixing (plastisols, water), air drying (solvent, water), firing paints.
"Silkscreen" name is derived from a patent for a screen printing process issued in 1907 under the name Silk screen printing - "printing with a silk sieve". It is believed that this method of printing originated in ancient times, but screen printing acquired its modern look in the middle of the last century. Thanks to the features of the technology silk screen printing allows you to print on both flat and cylindrical surfaces. Now screen printing is used not only in the printing industry, but also in textile, electronics, automotive, glass, ceramics and other industries.
One of the features of screen printing is the ability to make a thick ink layer, from 8-10 microns to 1000 or more (for offset, the ink layer is 1-2 µm), with impressive coverage and color brightness. You can also widely use special effects - glitters (sequins), voluminous printing, imitation of velvet or rubber. It is possible both direct printing on the printed surface, and transfer printing on intermediate carriers (e.g. transfer paper) with subsequent transfer to the product.
Screen Printing Application Areas
Screen printing is one of the most technologically advanced printing methods. It covers a wide variety of applications: from manual work to high-tech industrial solutions, from the smallest formats in the microcircuits manufacturing to the largest posters around 3x6 m in size, and from single copies to long-run printing up to tens of thousands of copies.
Screen printing is used for printing on paper, textiles, ceramics and synthetic materials in the form of a web, separate sheets, as well as on products for various purposes and shapes, such as cans, glasses, bottles, dashboards, latex balloons. Silk screen printing is also used for printing decals (transfer pictures on glass or ceramics) with or without subsequent firing, for applying an erasable ("scratch") layer for lottery tickets and payment cards. Screen printing is used for printing electronic circuit boards, applying conductive tracks to car windows, and much more.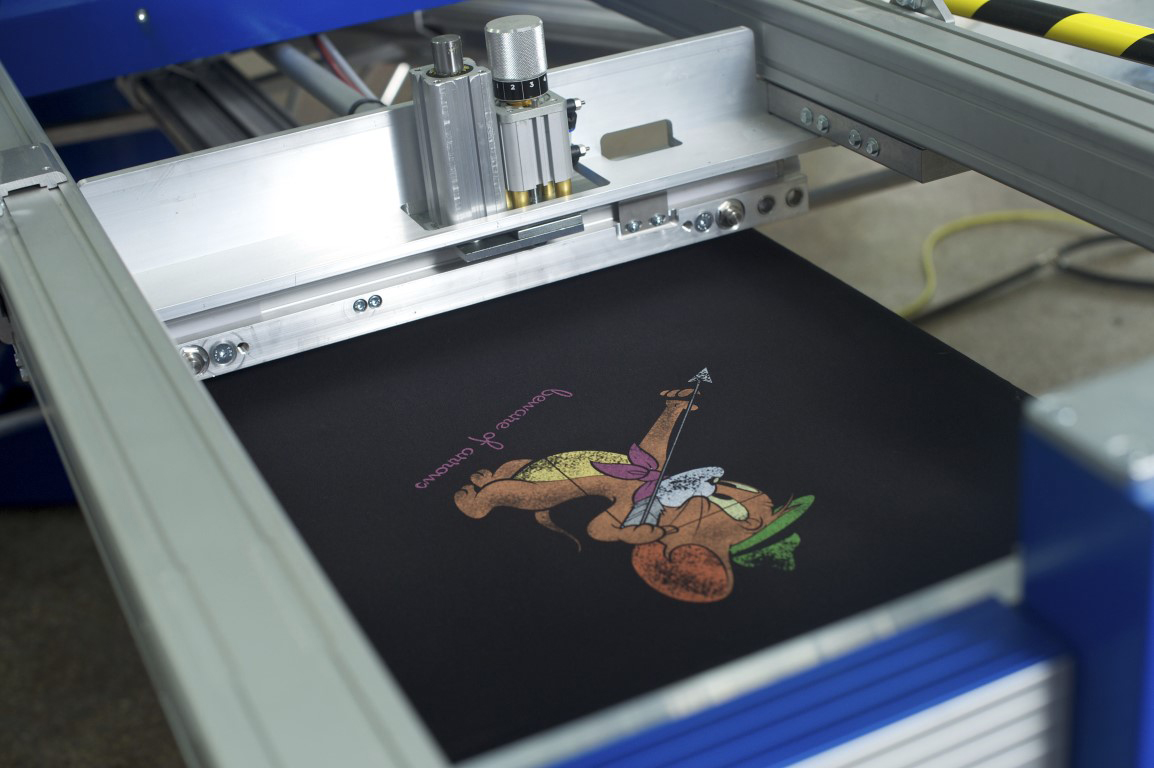 Color palettes are characterized by great diversity. Special paints are widely applied in a great variety of areas. Four-color (full color printing) is widely used in the stencil method for printing illustrations. The screen printing machines and devices include both the usual fixtures and fittings used in handicraft production, as well as large machines for industrial scales.
There are almost no restrictions on the dimensions of the printing area in screen printing.This explains the demand for large-format silk-screen printing, where the dimensions of images are measured in meters. Screen printing method is used for printing on large items, such as aircraft fuselages and other vehicles. As for the small print area, the printout of the image elements can be up to 0.1 mm or less, for example, a printed circuit board drawing for microelectronic devices.
Screen printing has other specific applications. For example, applying glue through a special stencil made by laser, to the contact pads of circuit boards for the purpose of subsequent fastening of radio elements, printing of luminous panels for technical applications and advertising with electrically conductive and phosphor pastes, drawing images on chocolate bars and many other areas of application.