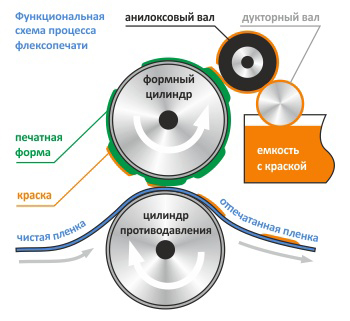 Flexographic printing (flexography, flexo printing) — is a printing method that is a direct high-speed rotary printing with quick-drying liquid inks, fixed on various and often flexible materials, using elastic printing plates that can be mounted on plate cylinders with different circumferences.
is a printing method that is a direct high-speed rotary printing with quick-drying liquid inks, fixed on various and often flexible materials, using elastic printing plates that can be mounted on plate cylinders with different circumferences.
Flexography is used in production of labels, for printing on packaging, plastic bags, etc.
History of flexo printing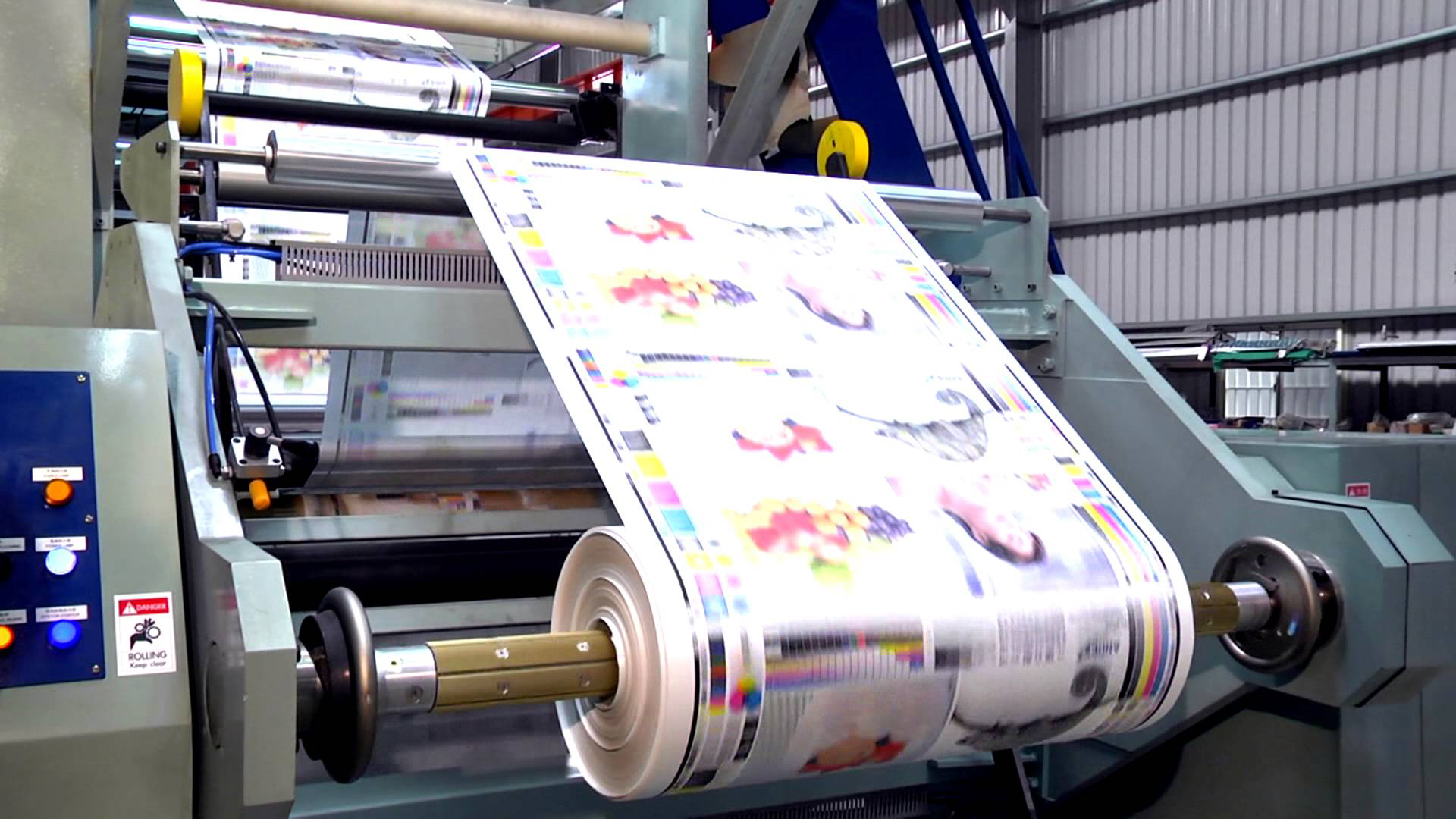 It is impossible to name the exact date of the invention of this type of printing. For the first time something like flexography was used in the 19th century for wallpaper printing. And yet Karl Holwege could be considered as the inventor of this method, who was the owner of the German machine-building firm "K&A Hollweg GmbH", existing today. Another important technical prerequisite for the emergence of flexography was the invention of rubber elastic forms.
Originally, flexo printing was used almost exclusively for printing on paper bags and other packaging materials. Certain advantages of this type of letterpress method over in classical ways contributed to expanding the scope of flexography. Letterpress forms were previously made only from wood or metal (typographic alloy of type metal, zinc, copper), but with the advent of elastic printing plates in flexography, letterpress printing plates began to be made from photopolymers as well. A new stage in the development of flexographic printing began around 1912, when the Parisian firm "S. A. Cellophane" began to produce cellophane bags with inscriptions and images printed with aniline dyes.
The application area of flexography gradually expanded, which was facilitated by certain advantages of this special type of printing over classical methods, especially where the task of obtaining high-quality prints was not set. Initially, the method was used to print on paper and plastic bags and other packaging materials. In 1929, it was used to make vinyl record sleeves. In 1932, automatic packaging machines with flexographic printing units appeared for the packaging of cigarettes and confectionery products, such as cookies.
In the interval between the two world wars and in the first post-war years, the technology of flexography and, above all, the technology of plate processes was improved.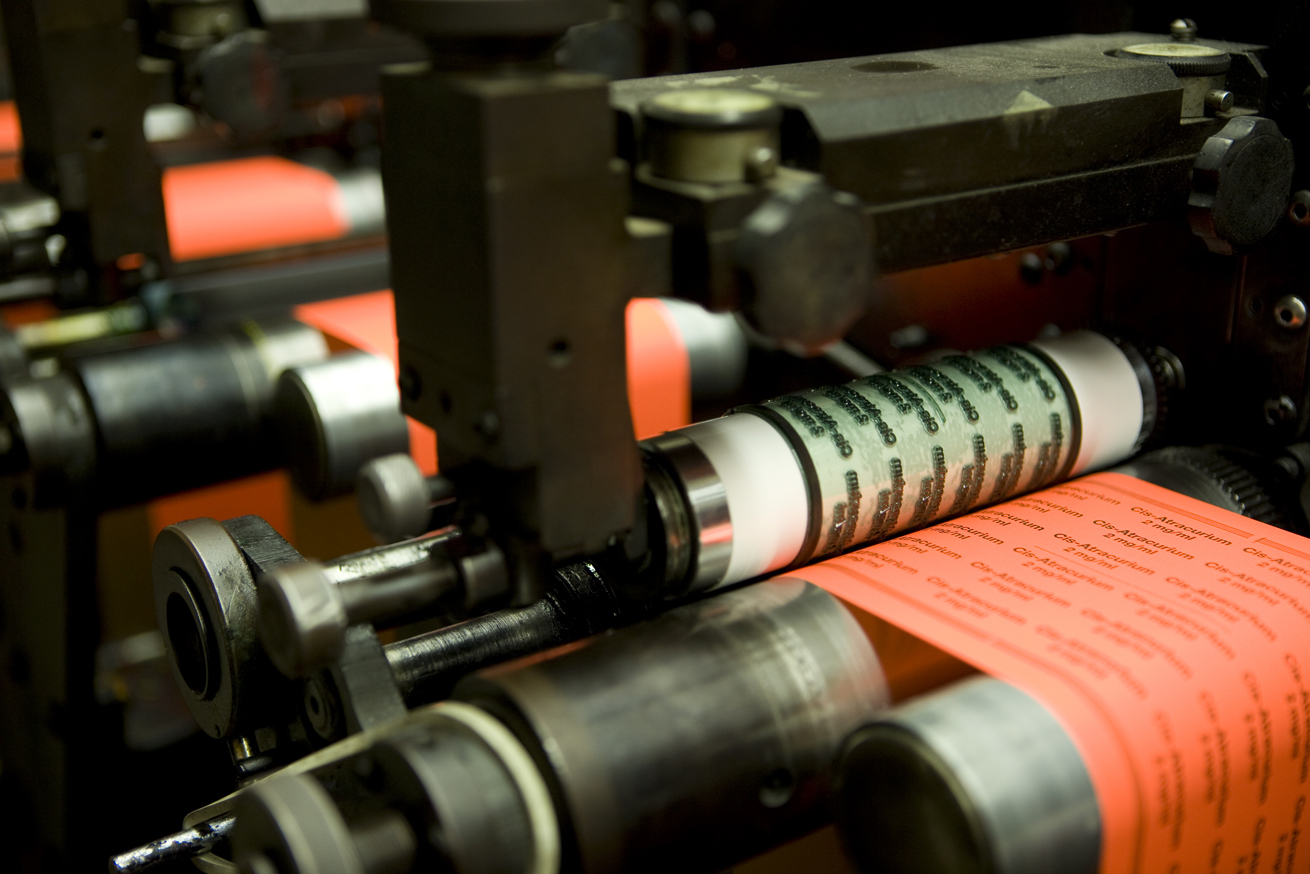 Since around 1945, flexographic printing has been used for wallpaper printing, advertising materials, school notebooks, account books, forms and other stationery documentation. In 1950 German publishing house "Rovolt-Verlag" began issuing a mass series in paper covers of RoRoRo Bucher. They were printed on newsprint on a rotary aniline printing machine, manufactured by the company "Marx und Fleming". The cost of books was low, which allowed the publishing house to sharply reduce the price of book production. Around 1954, the flexo printing method began to be used for the manufacture of post envelopes, Christmas cards, extra strong packaging for coffee and other bulk products.
A new stage in the development of flexography began around 1952 with the advent of new perceiving surfaces which are films of polymeric materials. Polyethylene has been widely used. Flexo printing continues to be refined up to now.
The main advantages of flexo printing:
⦁ Large selection of print media types
⦁ Ability to print on materials of various thicknesses
⦁ Possibility of using water-based paints
⦁ The possibility of combining post-printing processes (lamination, die-cutting, folding and gluing) into a single line
⦁ Environmental friendliness
⦁ Ability to print from roll to roll at high speed (up to 610 m/min)

Printing process
The printing process takes place with the help of special equipment: a printing plate, a printing machine, etc. The relief printing plate used in flexography is made of pressed rubber or photopolymer material. The printing image protrudes from the surface of the form. In the production of flexoforms, analog and digital methods can be used.
Flexography is a direct printing method in which an inked plate transfers the image directly onto the printed surface. The inking roller, called the "anilox roller", transfers the ink to the convex portions of the mold, which in turn transfer the ink to the surface. An anilox roller has cells that transfer a certain amount of ink to the plate. The number of cells per linear inch of roller may vary depending on the type of printed product and the quality required. The name "anilox" is taken from the name of the ink used in this process until the 1950s. Anilox inks were made from aniline dyes, which were later discovered to be hazardous for health in the 1950s. So the new inks were invented and have been used ever since. The roller that transfers the ink is still called aniline, even though aniline inks are no longer used in flexography. Currently, flexography uses fluid, quick-drying inks, which are most often diluted with water.